Pickleball Courts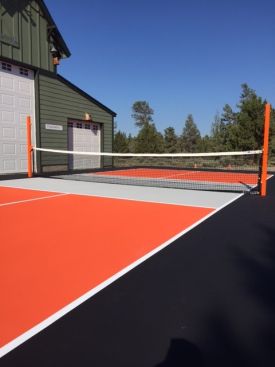 Pickleball Court by Hinding Tennis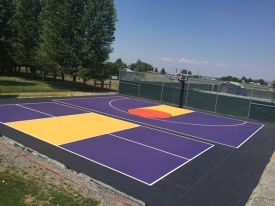 Pickleball-Basketball Courts by Hinding Tennis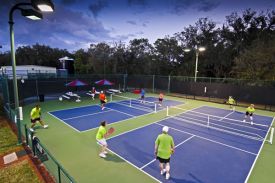 Pickleball players under the lights
IN A PICKLE
Redefining the lines of racquet sports

The sport with the curious name, "Pickleball" is fast gaining popularity throughout the country.  Pickleball started as a children's game in the 60's but is now the go to game for the senior set.  This hybrid of tennis is so popular in fact, New York Times writer Peter Kilborn reports that the Pickleball Association now boast 150,000 players, almost triple 2010 numbers. It's played on a converted or multi use tennis court with supersized ping-pong paddles and a whiffle ball.  Many former tennis players find it's a great "step-down" when tennis gets too demanding.  Many clubs in the tri state area are offering tennis and pickleball on their roster.  The great news, both sports can be played on the same court with the addition of pickleball lines!

The growth in the sport is attributed to several of factors.  
• It's can be played indoors and outdoors.
• New players can learn the game in a single session.
• Pickleball can also be taken to the next level as a competitive fast paced sport.
• Basketball and tennis courts can be quickly converted into multi-use courts.  
• Just like tennis, pickle ball can be played as singles of doubles.
• The sport fits the bill for all ages looking for exercise and camaraderie.
• Pickleball equipment is inexpensive and portable.  

Tom Hinding of Hinding Tennis says, "we've seen the growth in all sectors from retirement communities to school P.E. programs offering pickleball." He adds, "they can accommodate more players as a single tennis court can be used as two to four pickleball courts. It's also a great addition for an underutilized basketball court." Hinding says, "it's a win-win for clubs and schools as the court utilization percentages go way up."

Finally, if you are wondering where the crazy "pickleball" name originates from, it's rumored to be the name of a dog. Pickles, the game's founders' cocker spaniel, would steal the ball every time an errant shot came his way.